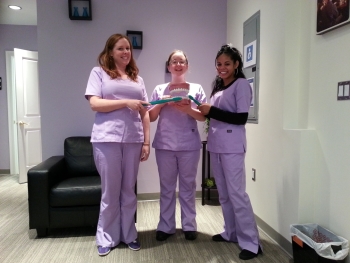 Office Financial Policies
Smiles By Rosie Family Dentistry has set fees for all dental procedures. The only time a fee might be different is when using a contract with a dental insurance company, which may have its own fee schedule. (See section below on insurance.)
Fees and insurance co-payments ("copays") for each procedure are due on the day that procedure is performed, before the patient is seated. This policy is in place so that any questions about the fees can be explained before all work is done, for better understanding between patient and practitioner. It also allows patients to leave directly after their appointments. The office manager will call or email the copay amount 2 days before each appointment.
We take down insurance information at the time the first appointment is scheduled. This allows us to confirm that the patient is eligible so that we can accurately predict copays. Though we are happy to enter patients into the system and list appointment availabilities without insurance information, we will be unable to make the appointment until we know the plan and member identification number. The fee for a new patient appointment out of pocket is $364. Most dental insurances pay for first visits at 100%.
We strive to create a schedule to stay convenient and efficient for our patients. Therefore, there is a $50 fee for any cancellations with less than 24 hours' notice or for not showing up to appointments. Patients who need to reschedule Monday appointments are asked to contact us by 5pm on the Friday before in order to avoid the fee.
We are responsible for the oral health of our patients and take this responsibility very seriously. Keeping appointments is crucial in order to ensure that all needed dental treatment is completed. Therefore, we reserve the right to dismiss patients without warning if they do not show up to their dental appointments.
Insurance "breakdowns", or confirmation of insurance benefits and amounts, are performed for all patients before their first visit. We can then provide an estimate of a patient's copays for each future visit. These estimates are not a guarantee, and patients should understand that their final fee might differ from the original estimate once all claims are received.
If we find that a patient's insurance plan has been terminated or is not currently active, we will notify the patient as soon as possible to see if there is updated information or to give the patient a chance to find an active plan. All patients are welcome to pay out-of-pocket for dental visits and all copays are due on the day of the appointments. It will be the patient's responsibility to get re-established with an insurance plan or be prepared for the out-of-pocket fees. Patients can also reschedule or cancel appointments with greater than 24 hours' notice. The office reserves the right to cancel a patient's appointment if we have notified a patient of a canceled insurance plan and have not heard back after several attempts.
During severe weather, the office will always be open during normal hours. If we close unexpectedly, we will post on Twitter, Facebook, and hang a sign on the door. We do ask that patients still make an effort to attend their scheduled dental appointments. If a patient needs to cancel due to weather and we receive a message before 9am on the day of the appointment, we will waive the $50 cancellation fee.
Insurance
Smiles By Rosie is a contracted provider with the insurance companies linked below. Please note that we do not accept DMO plans, including Cigna DMO and DeltaCare (we do accept DeltaDental PPO). We are out of network with MetLife and Altus, which means that there is some coverage but the copays may be higher. Union and federal dental insurance plans often have high copays.
When a provider has agreed to a contract with an insurance company, this means that the office agrees to the fee schedule set by that company, which may be different from the fees at Smiles By Rosie, Inc. Therefore, copays and costs may differ from patient to patient depending on the insurance they are using. Please ask the office manager for further information on dental insurance.