Meet Our Team
---
---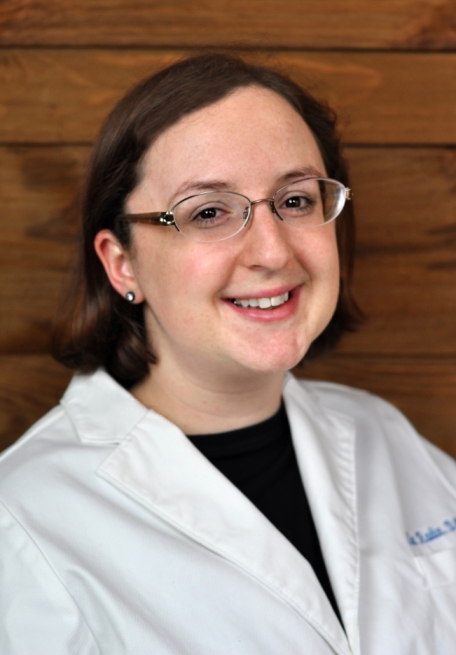 Rosie Wagner, DDS
Founding Dentist
She/Her
Dr. Katie-Rose "Rosie" Wagner grew up in a quiet town in the Berkshires of western Massachusetts. She chose to pursue dentistry for the connection between oral and systemic health and how closely we connect our mouths with our overall well-being. Dr. Rosie saw how much negative feelings like shame and embarrassment related to one's teeth can prevent someone from pursing needed dental care. She appreciates the variety of dental procedures available to restore the mouth and prevent dental issues, and loves the amount of communication that is unique to the dentist-patient relationship.
Dr. Rosie earned her Bachelor of Science degree at University of Massachusetts at Amherst where she graduated a semester early summa cum laude with a major in biology and a minor in music performance.
Dr. Wagner then earned her Doctor of Dental Surgery degree at the University at Buffalo School of Dental Medicine, representing the student body by serving on the admissions and curriculum committees.
She then continued her dental education by completing a general practice residency at the Tufts University School of Dental Medicine. During her residency, Dr. Wagner obtained extensive experience treating patients from a variety of backgrounds and medical histories, including patients with special needs. She performed oral rehabilitation cases in the operating room, completed rotations in oral surgery, general anesthesia, and temporomandibular disorders, served as on-call dentist for Tufts Medical Center, and maintained her own group of comprehensive care patients.
Dr. Wagner worked as an associate dentist at a pediatric dental office before building her own practice. She wished to create an environment that emphasized her unique approach to treatment and patient care. Dr. Rosie prides herself on maintaining an approachable, educational, and reassuring demeanor for all kinds of patients, especially those struggling with fear of the dentist or with worries about being judged for their teeth.
Dr. Wagner also holds hospital privileges at Franciscan Hospital for Children in Brighton, Mass. In the operating room, patients are placed under general anesthesia and Dr. Wagner can restore their entire mouth in one visit. This service is available to children and patients with special needs who are not able to receive dental care in the traditional dental setting.
Dr. Rosie is actively involved in the Massachuestts Dental Society (MDS), serving as chair of the Middlesex District Dental Society as well as being a member of the American Dental Association. She is also co-chair and founding member of the Massachusetts Oral HPV Prevention Taskforce. Dr. Wagner lectures frequently at local dental schools and provider meetings on reducing HPV-related oropharyngeal cancers through education and prevention, as well as on entrepreneurship, patient-provider communication, and environmental epidemiology. She is also a subject matter expert for the Massachusetts Department of Public Health (through the Oral Health Equity Project).
In her free time, Dr. Rosie plays piano and euphonium, sings, records audiobooks in the public domain for free distribution, is a professional voiceover, and enjoys contra dancing, board games, and local festivals. She lives with her husband Will and their two cats, Ion and Squez. Dr. Wagner also comes from a dental family: Her father is a dentist and her mother manages the dental office, so Dr. Rosie spent afternoons as child filing patient records and developing radiographs. She thanks her parents for their guidance and education on patient communication and offering a nuturing, empathetic dental environment.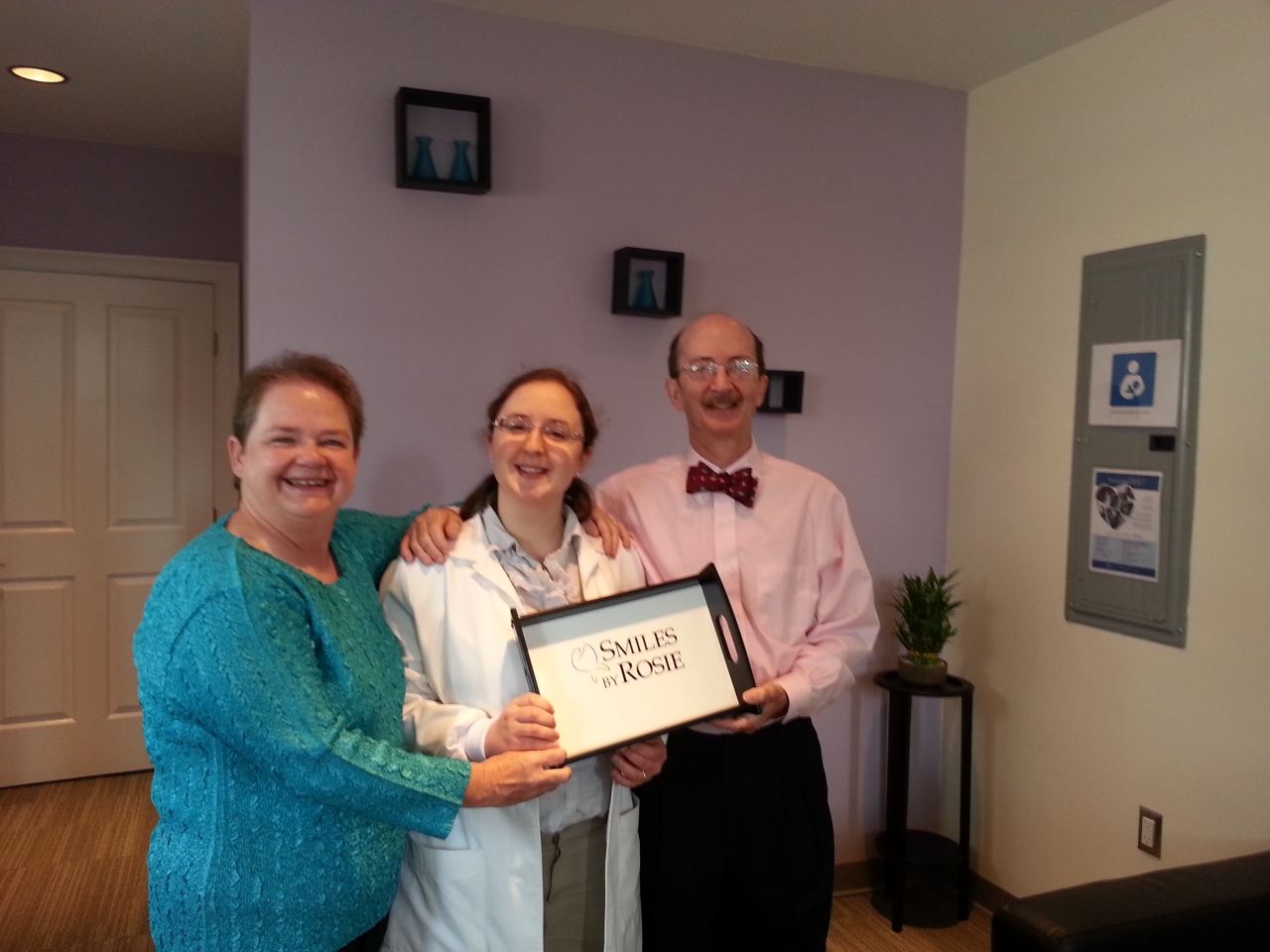 Dr. Wagner and her parents
---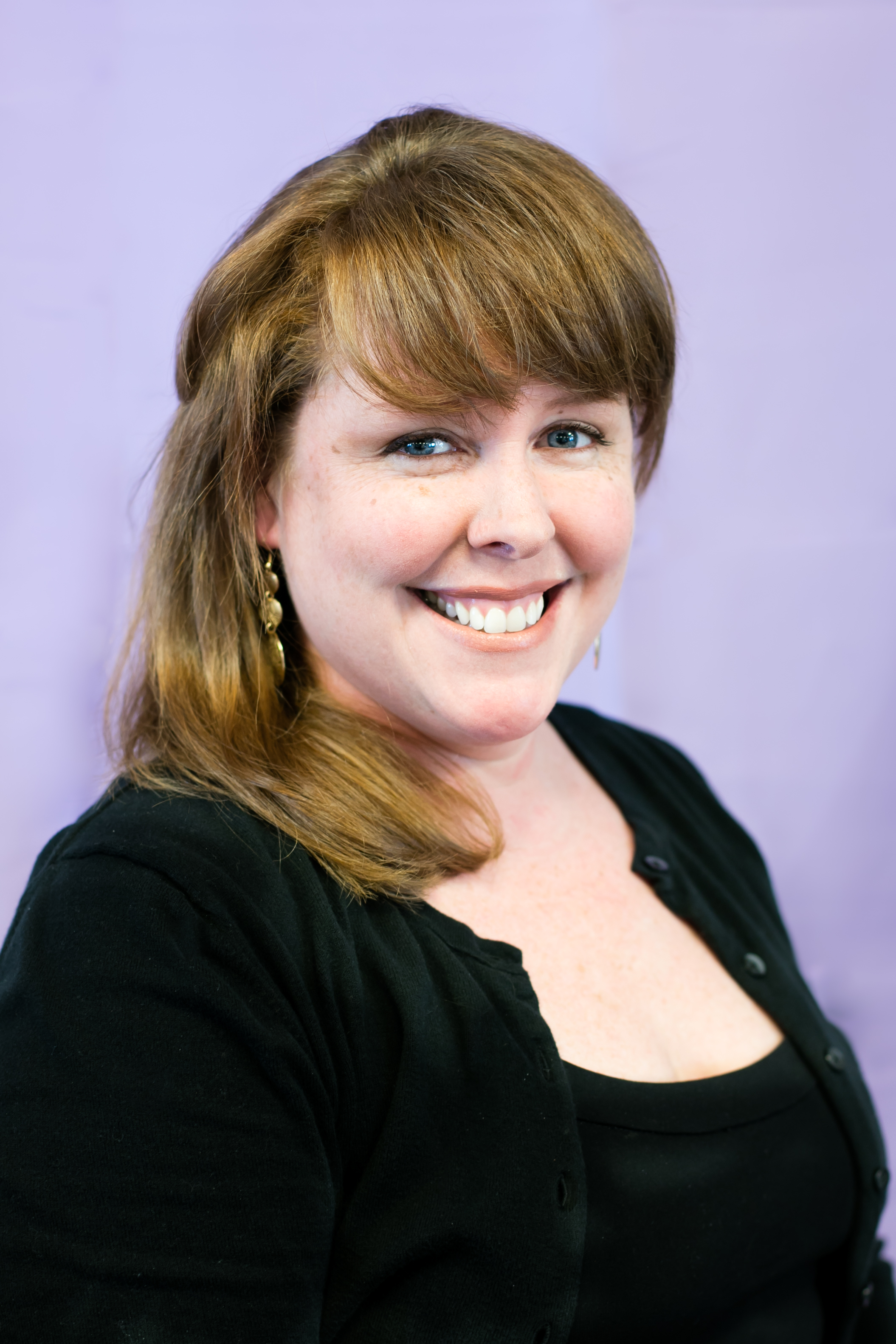 Kelli
Office Manager
She/Her
Kelli has many years of administrative experience in a variety of different facets. She highly values possessing the necessary skills that make office management successful, while striving for a pleasant and comfortable professional approach. Kelli is likely the first voice you've heard on the phone and the first face you'll see in the office! She is particularly skilled in insurance management for the many dental plans accepted at Smiles By Rosie.
Kelli's primary professional background lies in classical music. She earned her Bachelor of Music degree from Louisiana State University in Baton Rouge and her Master of Music degree from Boston University. Kelli has performed professionally at various venues throughout the world.
---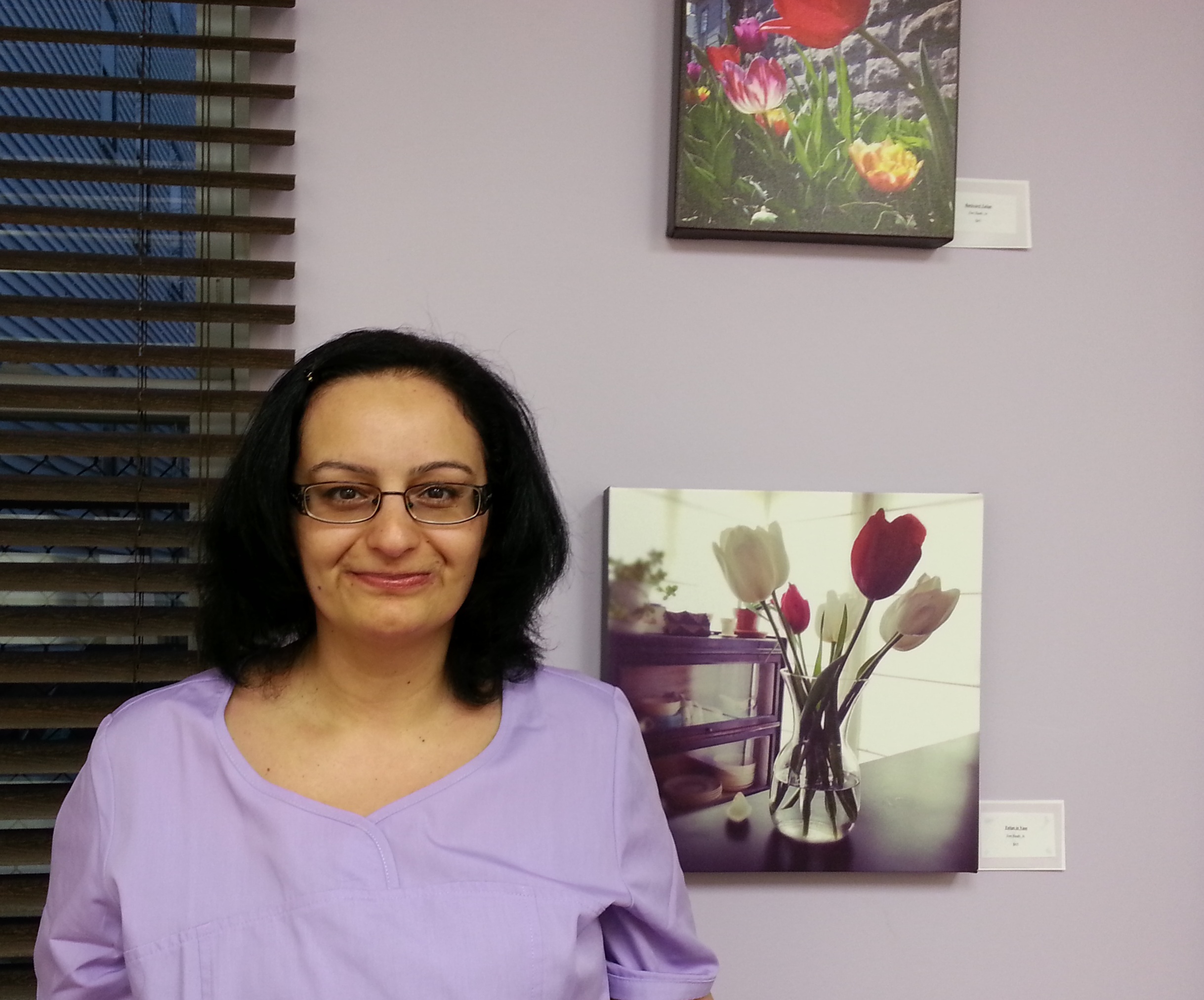 Afsoun
Dental Hygienist and Licensed Massage Therapist
She/Her
Afsoun graduated from the University of Southern California with a bachelor's degree in biology before pursuing her dental hygiene degree at the prestigious Forsyth School of Dental Hygiene at the Massachusetts College of Pharmacy and Health Sciences University. She believes in connecting with her patients from a place of compassion and caring and brings a nurturing, warm approach to the dental setting. She has worked in many different settings as a dental hygienist and recently went back to school to learn about the art of massage and body work. Afsoun is continuing her massage education by studying to be an orthopedic massage therapist in hope to help patients suffering from temporomandibular disorders (TMD). At your next cleaning with Afsoun, ask her for a 5-minute chair massage!
---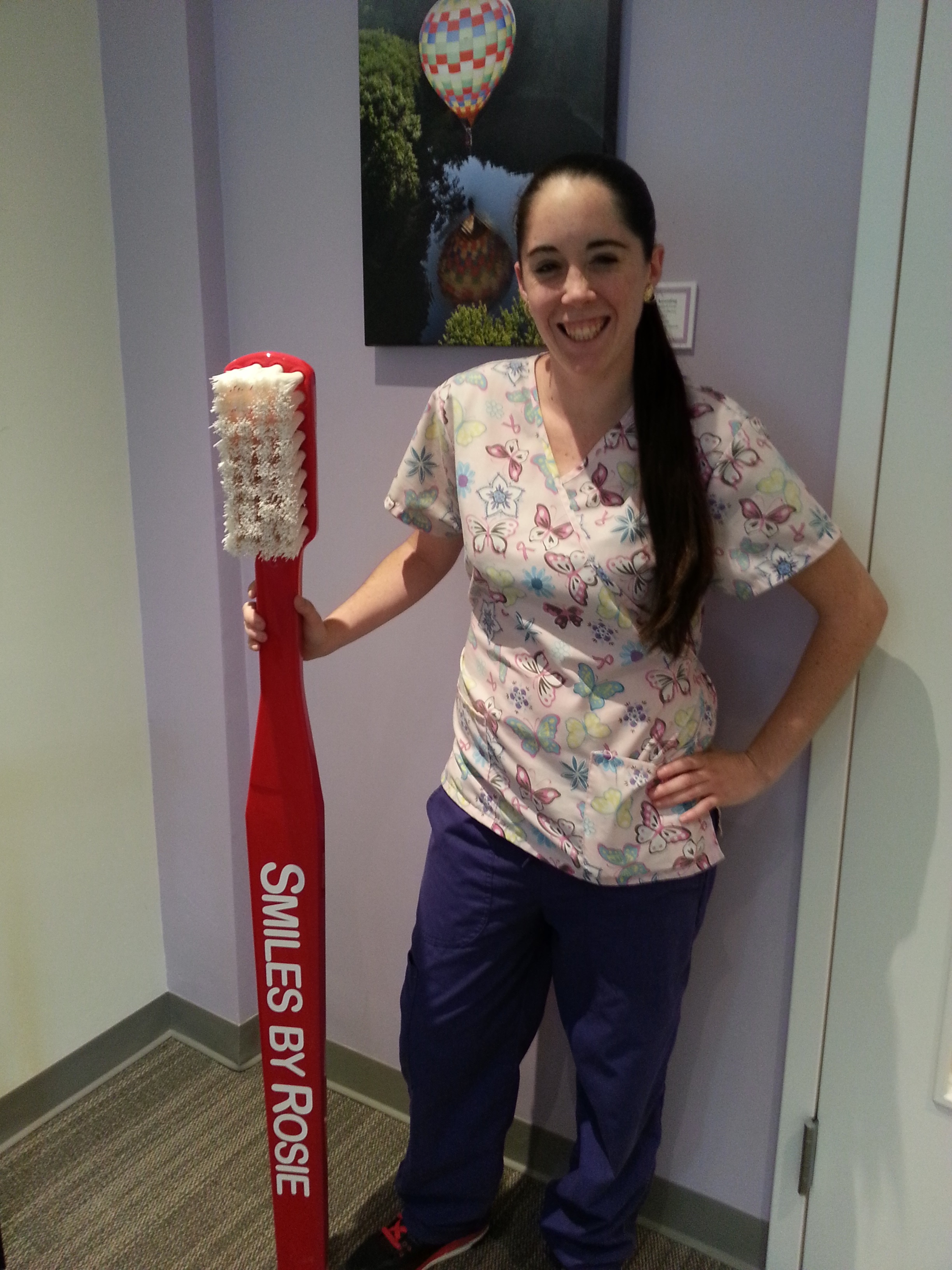 Angela
Dental Assistant and Insurance Specialist
She/Her
Angela began her interest in medicine by studying medical assisting and gaining clinical experience in a spine clinic. Realizing her love for patient interaction and clinical variety, Angela turned to dental assisting. She particularly enjoys working with children and has a great talent for helping to relax patients who might be anxious about their appointments. Hailing from Florida, Angela has now settled in the Boston area with her fiance, two young children, and their dog Neno. Angela is cross-trained in all aspects of dental assisting as well as insurance management, including claims, preauthorizations, and eligibility. You might see her at the front desk or in the treatment area!
---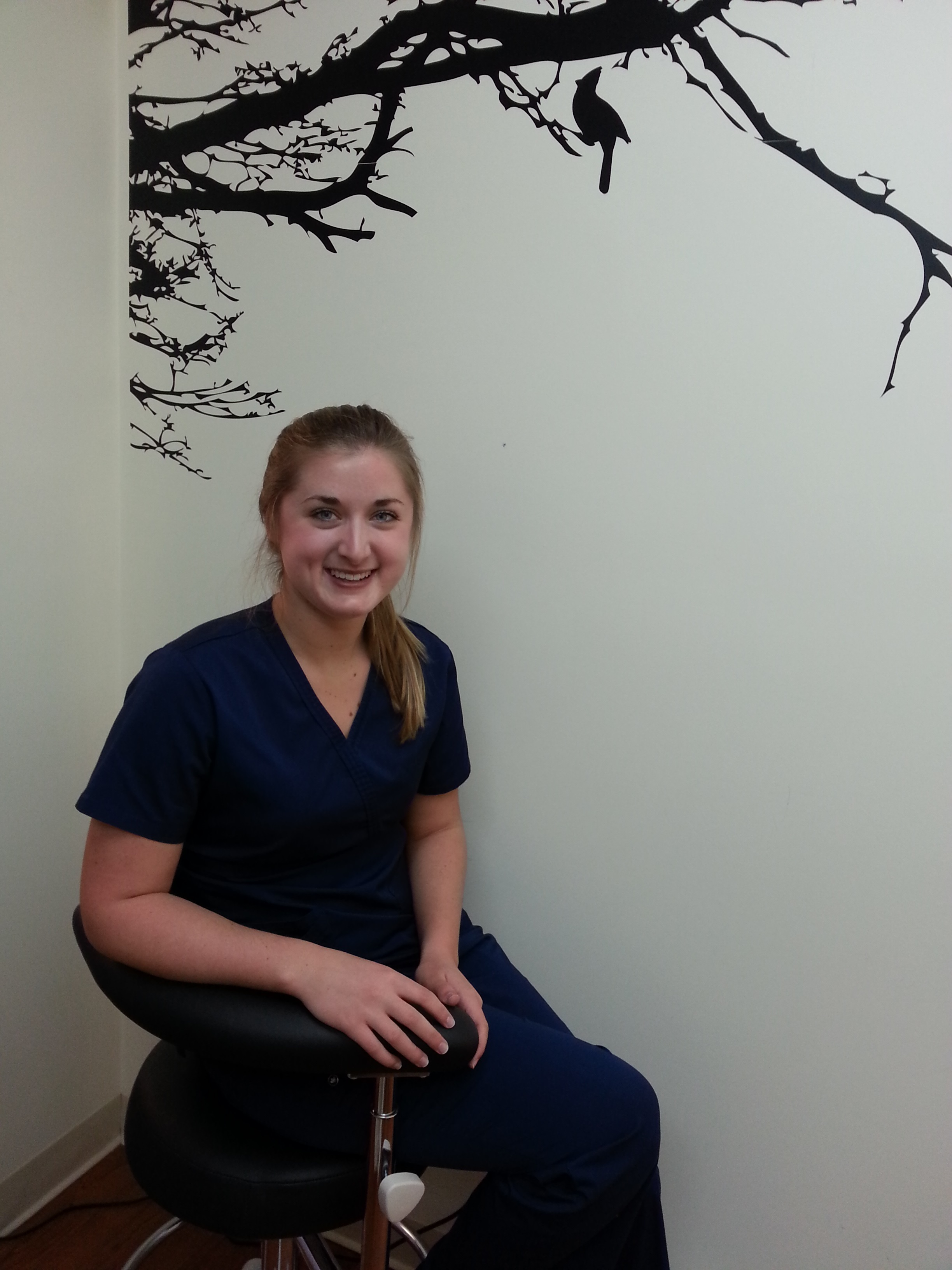 Erika
Lead Dental Hygienist
She/Her
Erika wanted to be a dental hygienist since she was 8 years old. She loved going to the dentist and particularly appreciated how friendly all the hygienists were. Erika enrolled in the prestigious Forsyth School of Dental Hygiene through the Massachusetts College of Pharmacy and Health Sciences University. She completed rotations at the Cedar Clinic for mental health through Brigham and Womens hospital as well as Franciscan Children's Hospital, a dental clinic for children with special needs. Erika's senior project, "In Control And On A Roll", focused on reducing anxiety for dental patients. She particularly enjoys working with patients who are fearful of going to the dentist as well as children and adults with special needs. In her free time, Erika enjoys hiking, kayaking, and travel.
---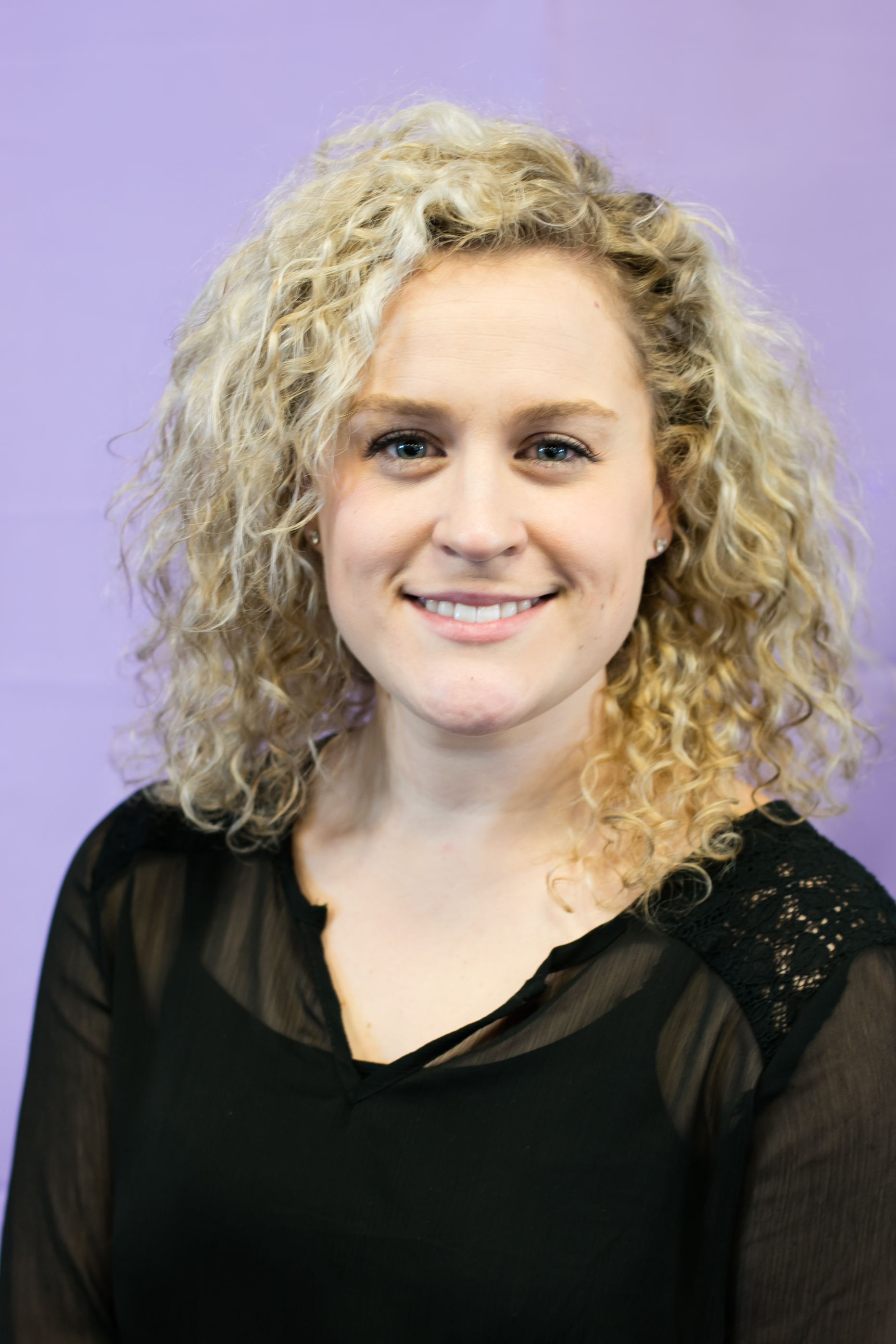 Megan
Dental Hygienist
She/Her
Megan is originally from Nashville and graduated with a degree in psychology from LaGrange College in Georgia. After college, she was a flight attendant based in Washington, DC and traveled the world, meeting thousands of fascinating people! She then moved back to Nashville to enter the world of fashion and merchandising. She helped design couture bridal gowns and mensware and consulted at a variety of retail stores. Megan's career paths have always highlighted her fantastic communication skills and an innate talent to put anyone at ease. She wished to enrich these skills by entering the field of dentistry, which was her dream from the beginning. Megan and her fiance moved to Boston where she attended the prestigious postbaccalaureate dental hygiene program at Massachusetts College of Pharmacy and Health Sciences. During her program, she attended rotations at the Quincy Elementary School, Harvard School of Dental Medicine, and presented her senior capstone project, "Desensitizing Autistic Children in the Dental Setting". She particularly loves working with children, and her hobbies include exploring Boston, cooking, and traveling.
---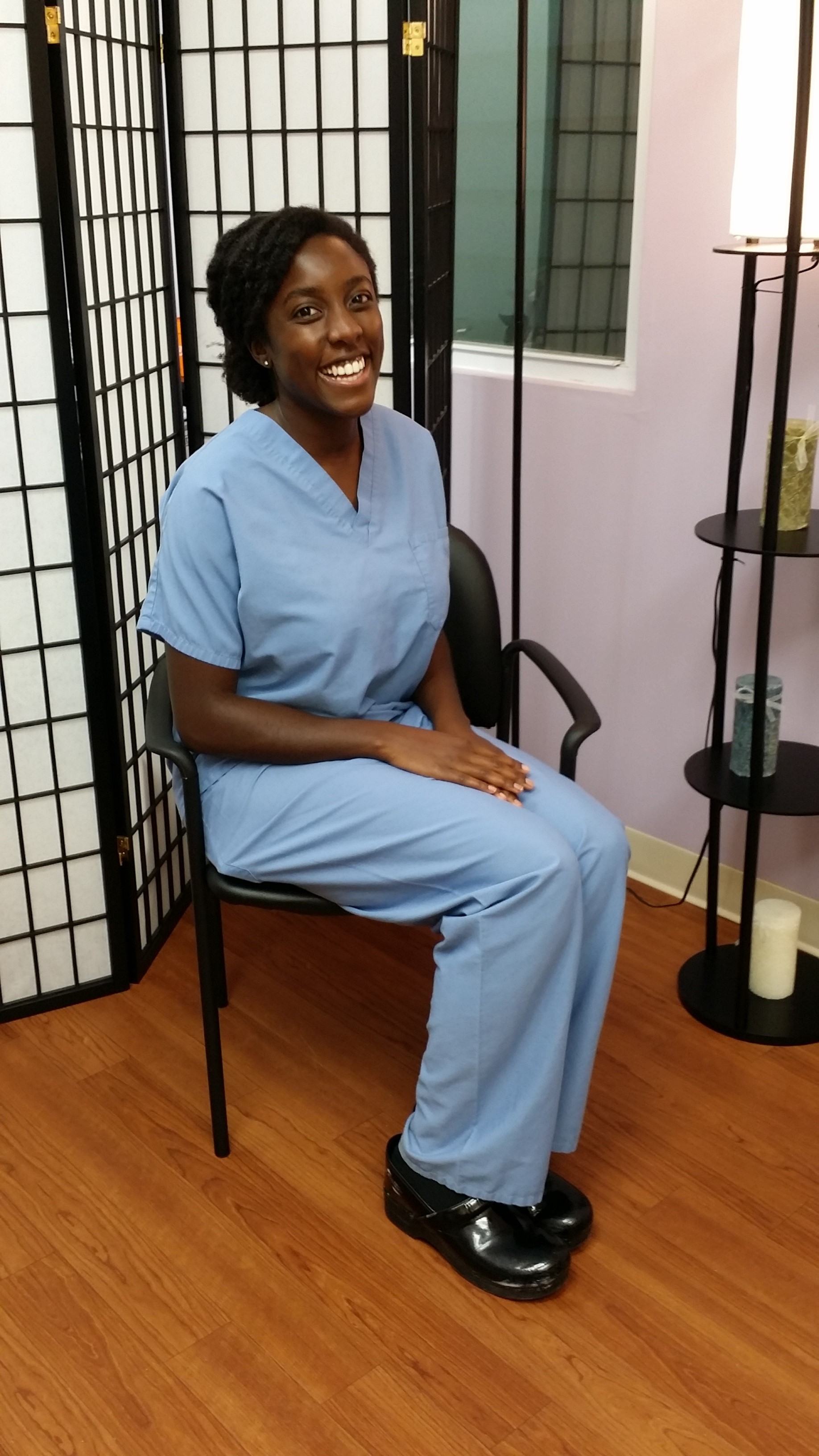 Flavia
Dental Hygienist
She/Her
Flavia decided she wanted to go into the dental field in eighth grade because she found it was a great way to mix sciences with helping others. She is a graduate of the Forsyth School of Dental Hygiene through the Massachusetts College of Pharmacy and Health Sciences University. During the program she was able to gain experience at the Franciscan Hospital for Children serving special needs children, and at the Dimock Center, an inner-city community health clinic. She was also able to reach out by organizing a free oral health day for a Roxbury youth after-school program. Her favorite part of dental hygiene is patient interaction and she especially enjoys working with kids. Flavia enjoys hiking, visiting new England beaches, seeing local music shows, NFL football, and trying new recipes.
---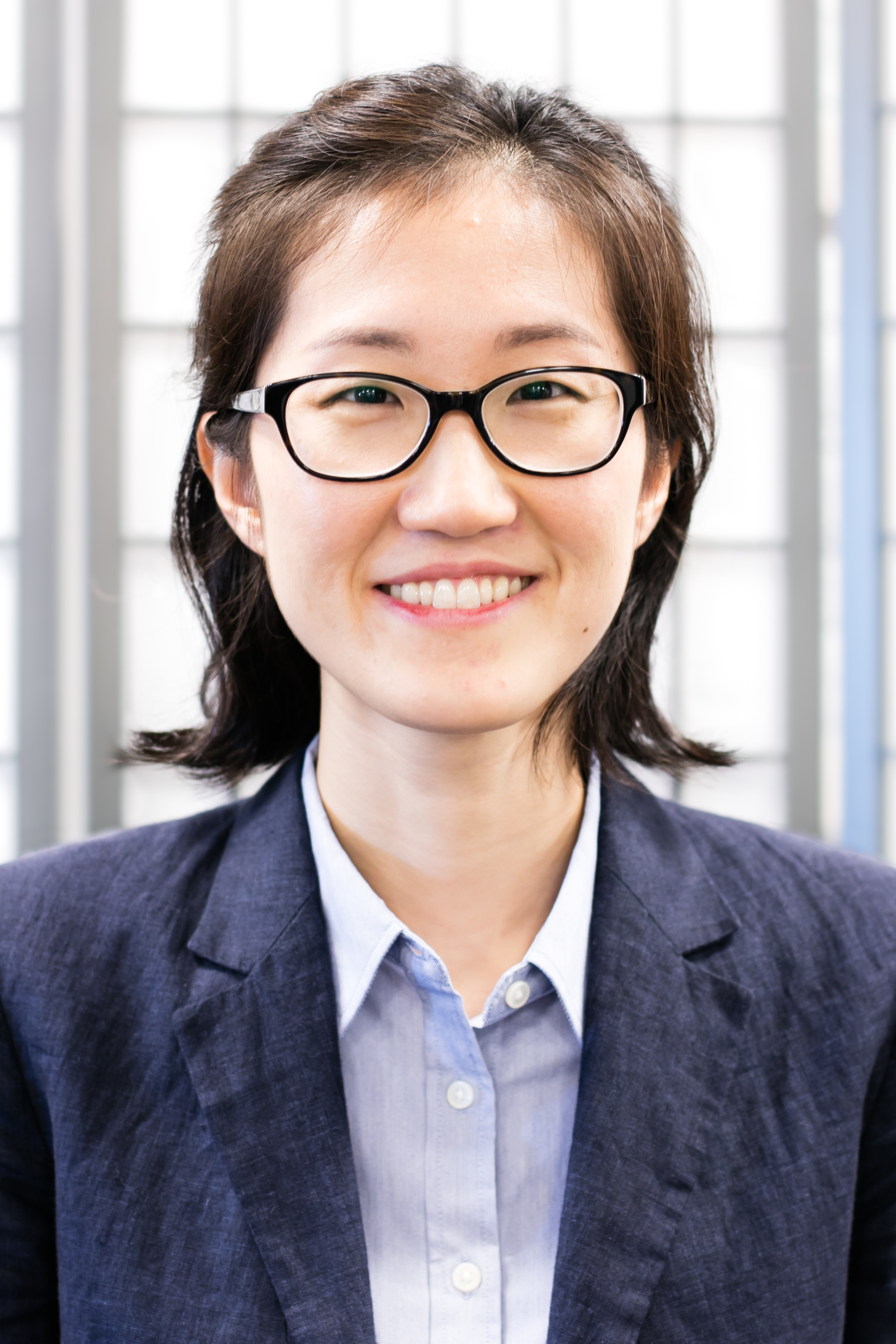 Hyunji Kim, DMD
Dentist
She/Her
Dr. Kim grew up in California, Korea, Kansas and Missouri before attending the Boston University School of Dental Medicine. She then completed two years of dental residency at the Stony Brook School of Dental Medicine, where she served as chief resident in her second year. Dr. Kim obtained advanced training in full-mouth rehabilitation, Invisalign, and endodontics before settling back into Boston. She loves providing meticuluous care with a soothing and gentle approach. Dr. Kim said that she was happy to join the "awesome team at Smiles by Rosie to help bring the best smile for everyone I get to serve in this community!" In her spare time, she enjoys exploring the beautiful city of Boston, hiking, swimming, snowboarding, learning new languages, writing songs and playing the guitar. She would love to check out the Banff National Park as her next travel destination!
---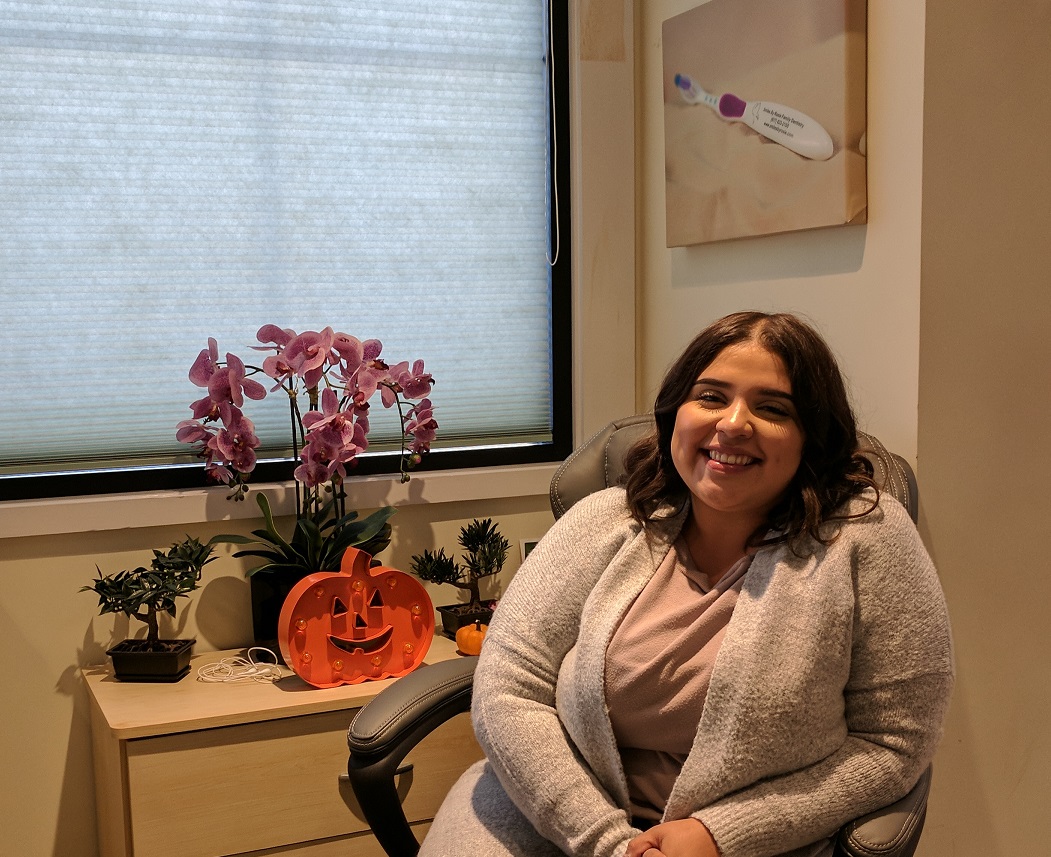 Claudia
Receptionist
She/Her
Claudia grew up a few blocks from Smiles By Rosie in East Somerville! She later attended Arlington High School and founded her own professional makeup service, where she provides in-home beauty care for weddings and special events. Claudia will likely be the first smiling face you see on entering the office! She can help with scheduling, checking your insurance coverage, explaining what to expect for your visits, and helping with check-in forms.
---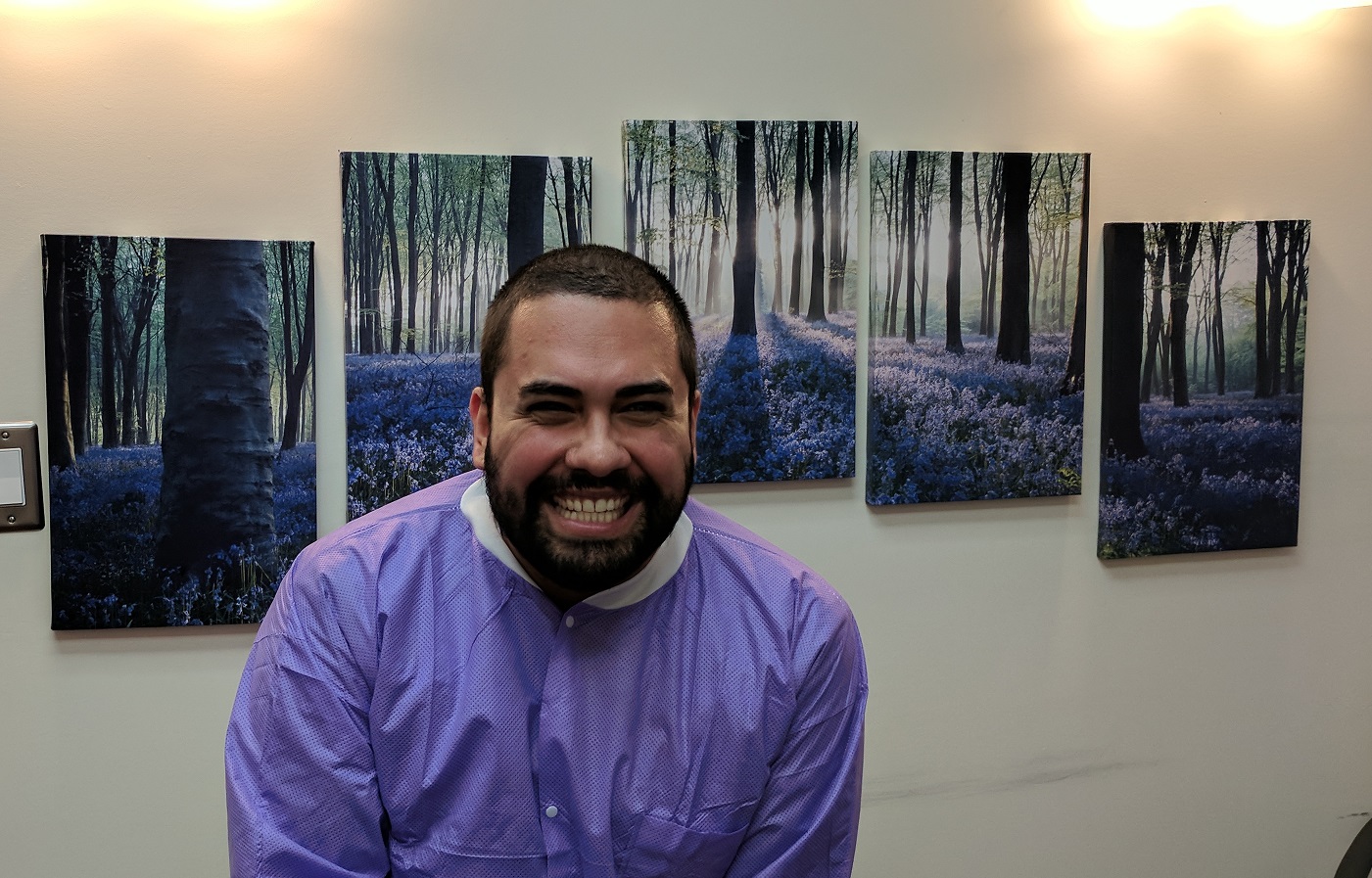 Desi
Dental Asisstant
He/Him
Desi grew up in New Jersey before moving to Boston to attend the Everest Institute for dental assisting. He then worked in private practice for several years, obtaining experience in dental radiographs, taking comfortable and accurate impressions, temporary crown fabrication, and comprehensive dental assisting. He brings a cheery and relaxed vibe to every appointment and is happy to help explain anything going on and have a conversation on any topic you'd like! Desi lives in northern Massachusetts with his husband and their dogs, cats, rabbit, and chickens.
---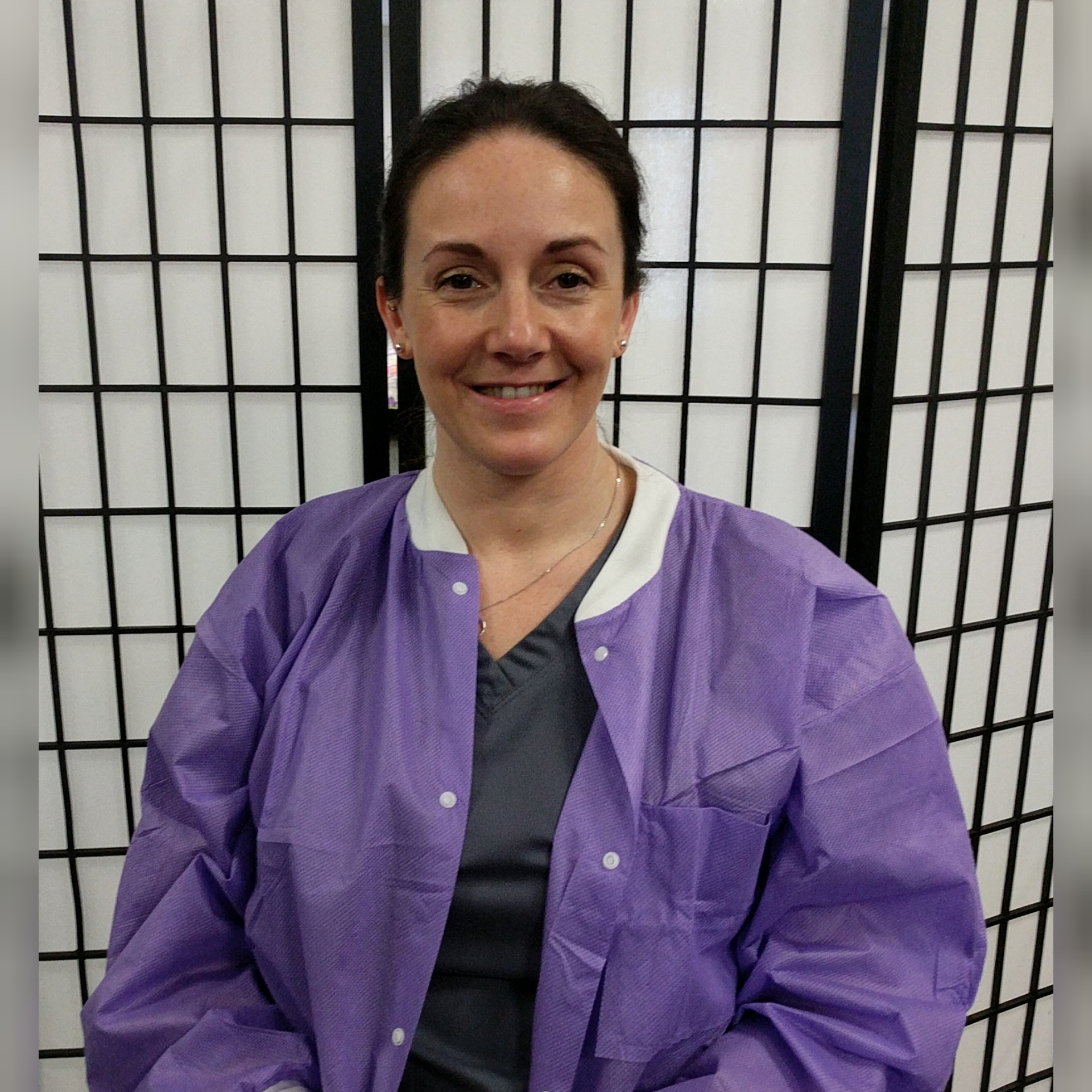 Brittany
Dental Asisstant
She/Her
Brittany grew up in Winchester, Mass, where she was a star member of the soccer team in high school. She then studied nursing before deciding that the communication-focused field of dentistry was the right direction! After training at Tufts, Britt worked with an endodontist for more than 10 years and then traveled state-wide with a periodontist, assisting with surgeries. She also worked as an audit analyst for an accounting firm before returning to her first love of dentistry. Brittany has driven across the country three times, loves The Dave Matthews Band, and has a garden at her home where she grows vegetables and lavender. She also loves cooking and running charity 5ks. Brittany lives with her husband and kitten Chloe on the south shore.