Personalized Care
Pediatric Dentistry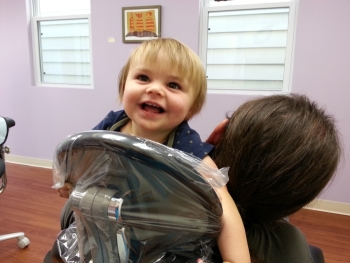 Parents are encouraged to bring their babies into our office as early as possible after birth, especially when teeth start coming in. It will be much easier to clean your child's teeth and gums when he or she is accustomed to it from a young age. Also, it is important to wipe a baby's gums to reduce bacteria in the mouth and check for any issues or abnormalities, so there's no need to wait for all teeth to come in. Dr. Wagner will discuss topics like fluoride, nutrition, and oral hygiene habits.
Our office is particularly appropriate for children. All of us love working with kids, and we have a great time together! We have a large play area attached to the waiting room. We are friendly, welcoming, and speak to children as independent people (no baby-talk). Kids can hold mirrors and watch their dental procedures and will hear an ongoing description of everything that's happening.
Here are some tips for bringing your child to the dentist:
The best thing to say is simply, "We're going to the dentist! It's going to be fun!" It can actually increase a child's anxiety by saying things like, "Oh, don't worry about getting a needle. Today's just going to be a cleaning!" Before that, the child may not have even thought of feeling anxious about a needle in the first place.
Don't mention pain, injections, or anxiety. It is our job to make the child feel at ease and we will explain everything. Tell your children we'll be looking at and possibly fixing their teeth, and leave the rest to us!
We highly recommend that parents remain in the waiting room or just outside the treatment rooms (where your child cannot see you). We have found that in the vast majority of times, behavior management is easier when the child is alone with the dentist, assistant, and/or hygienist. Maturity and communication is increased, and parents are often surprised at how well their child does. Give it a try, and you'll see a huge difference!
Bring your child during the time of day he or she is the most cheerful and calm. This is usually in the morning, though afternoon appointments are sometimes more relaxed (as long as your child isn't over-tired).
We recommend not promising rewards to your child for going to the dentist. Dental care is a crucial part of overall health care and should be taught as a normal part of life, not an ordeal. We will make it a fun, happy visit and give your child a toy on the way out.